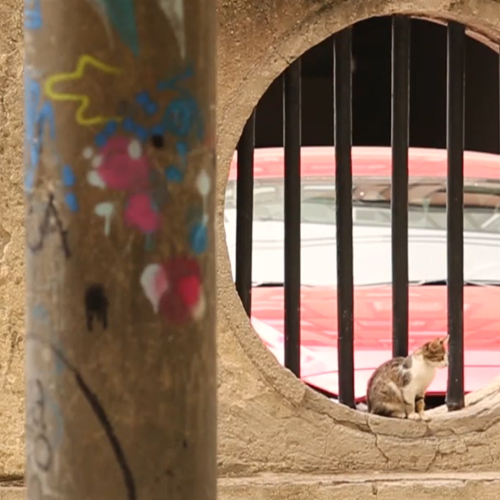 Title of the work
If Building could Talk
Short description of the work
The research-based performative art project IF BUILDINGS COULD TALK in Skopje is a collaborative action actively including the local community in the very process of its creation as one of the rare examples of collaborative practices in Macedonia.  
It is a multidimensional and multidisciplinary project which was conducted and conceived by the artist Filip Jovanovski, curated by Ivana Vaseva, in collaboration with the architect and researcher Dejan Ivanovski and the creative team: actresses: Kristina Lelovac, Sanja Arsovska, Jasmina Vasileva, Dolores Popovic, Ilija Tiricovski, video production, Dejan Petrovic, sound design and Oliver Musovic, production. In the center of this project is the Railway Workers' Residential Complex in Skopje, built as a rare example of social and communal housing in the frames of the post-war modern architecture.
This project is part of The International Theatre Festival "Youth Open Theatre" in Skopje in the additional program 
and it`s also partner of the project 
"
Cultural spaces for active citizens" in partnership with LOCOMOTIVA – Center for new initiatives in art and culture. 
Author: Filip Jovanovski 
Curator: Ivana Vaseva 
Researcher and co-author of the script: Dejan Ivanovski 
Actresses: Kristina Lelovac, Sanja Arsovska, Jasmina Vasileva, Dolores Popovic 
Video production: Ilija Tiricovski
Participants: tenants in the building – Slobodan Kocevic, Ivan Dzijanovski, Tome Karevski
Producion: Oliver Musovik
Camera: Aleksandar Kotevski
Drone: Stojance Cavirovski
Editor and Sound Designer: Sashko Potter Micevski
Curator of the discussion and the performance piece: Ivana Vaseva
Organization: FRU – Faculty of things that can't be learned, Bitola/ Skopje
Key words
Building – 
Skopje – Talk
Section
Video